As we come together for worship on this Third Sunday in Ordinary Time, I would like to share with you a reflection by Alice Camille in her book "God's Word is Alive!" Reflecting on the Gospel of Luke for today's Mass, she says: "Jesus surrounds himself with no air of mystery in Luke's story. He chooses the prophecy about the servant of the Lord quite deliberately to explain who he is. He is the anointed one, the Messiah. He comes with good news for the poor, the sick, the
captive. He comes to bring jubilee, the year of favor in which all debts are revoked and people can begin fresh and free. He is liberation from the ancient debt of sin. Any questions?

Well, as we know, Nazareth is not exactly pleased to have this Scripture fulfilled in their hearing. After all, they know Jesus, son of Mary and Joseph, a local boy who now thinks he is the answer to their prayers. If he had come down from the city, some big name from Jerusalem, they might have been more receptive. A position with the Sanhedrin or some credentials might have seen him further. But he is nobody, really. He is one of them. Imagine that this year has been a declared a
year of jubilee, and you can begin again, fresh and free. How will this freedom change your life?"
A most important event will take place this Tuesday evening: The Discernment Meeting for the Parish Pastoral Council. Each year we select new members for the Council to share their gifts to engage the parish in a parish plan which makes real the words of our Parish Mission Statement. You are invited to come to find out more about the purpose of the council and to decide whether or not you would like to be considered for this most important ministry. Presently the council is working on a program to reach out to alienated Catholics in a "Catholics Can Come Home" process. Also, we are seeking ways to minister better to young parents and newly married couples. See today's bulletin for more details.
This coming week will be our last "Soup and Study on the Gospel of Luke." (Last three weeks notes available here.) Our topic will be the passion, death, and resurrection of Christ as Luke presents it to us. Come along for some delicious soup at 6:00 p.m. and the study at 6:30 p.m.

If you haven't bought your tickets for our "St. Valentine's Gala", now is the time. Treat yourself to a delightful evening of celebration of love and friendship with Hors-d'oeuvres, a delicious four-course dinner and live music by the South
Coast Orchestra playing Big Band Music for listening and dancing! Our hope is to have 250 people in attendance in order to make this fundraiser for the restoration of St. Francis Hall a success. The evening will also feature surprise door prizes, a silent auction and a live auction of great prizes! Don't miss out!

Finally, join us this morning after 10:00 a.m. Mass to bid a fond farewell to Kathleen Flanagan, who has served us well as Parish Administrator for several years and to congratulate her on her new role in the Province of St. Barbara. We will also, welcome Mrs. Gwyn Grimes as our new administrator. Please stop by the Serra Gardens to offer your appreciation for Kathleen and Gwyn.
–Peace and all good! Love, Fr. Vince
Fr. Sam Nasada, OFM
Associate Pastor
7605470740
Email
Fr. Sam Nasada, OFM
Associate Pastor
Fr. Sam was born in Jakarta, Indonesia. He moved to the United States to get his degrees in Industrial Engineering and went on to work in the manufacturing industries in southern California for a few years. After becoming more active with the local Church and the Indonesian Catholic young adult group in Los Angeles, Fr. Sam started discerning a call to priesthood and religious life. He joined the Franciscans in 2010, professed solemn vows in 2016, and obtained his Master of Divinity degree from the Franciscan School of Theology in 2017. When the socio-political climate of the country seemed to be increasingly anti-immigrant, he decided to help establish a new Franciscan community in Elfrida, near the border town of Douglas, Arizona. December 3, 2019, Fr. Sam was ordained at the Our Lady of the Angels Conventual Church at the Franciscan Renewal Center.  He served at the Franciscan Renewal Center in Arizona, lovingly known as "the Casa" since 2018 as a transitional deacon, and finally a priest. Fr. Sam moved to San Luis Rey Parish to begin serving as Associate Pastor on July 1, 2020.
Rev. Oscar Mendez, OFM
Pastor
760-547-0714
Email
Rev. Oscar Mendez, OFM
Pastor
Fr. Oscar is a native of El Salvador, Central America. He came to the U.S.A. in 1972, and graduated from San Francisco State University in 1977, with a B.A. in Cell Biology. He entered the Franciscans while living in San Francisco in 1982, and studied at F.S.T. (Franciscan School of Theology) in Berkeley. He was ordained to the priesthood on Dec 16, 1989. His first assignment was as a parochial vicar at St. Anthony of Padua church in San Francisco. He went back to his country to study medicine and graduated in 2000. He practiced medicine for several years. Fr. Oscar has been a pastor at St. Anthony's in San Francisco, and St. Elizabeth's in Oakland. He served as Vocations Director for three years with the Franciscans and came to Mission San Luis Rey Parish in April of 2018 as Associate Pastor. He has also been working as a Formation Director for the past year.  Fr. Oscar began serving as our pastor on July 1, 2020.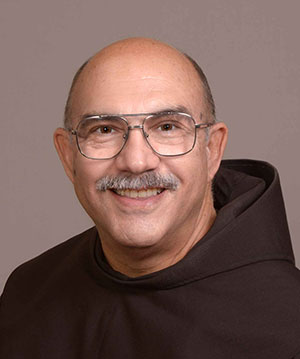 Rev. Anthony Garibaldi, OFM
Canon Law Consultant
(760) 757-3250 x128
Email