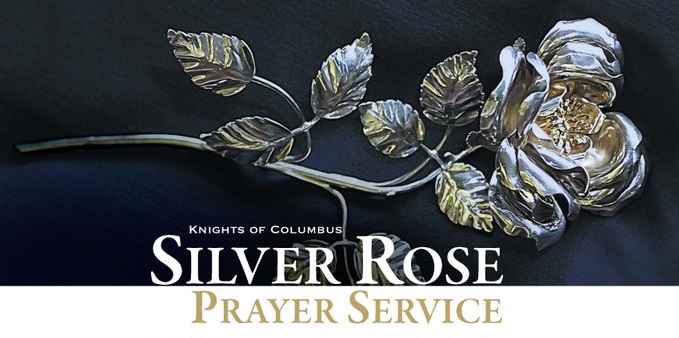 Knights of Columbus Hall
4070 Mission Avenue
Oceanside, CA 92057
The Silver Rose will be arriving at Mission San Luis Rey Parish in the Knight's Hall Thursday, September 26th, 2019 at  6:30 pm.  The Rose is on a pilgrimage across the United States, beginning in March and ending on December 12th, the  Feast of Our Lady of Guadalupe. During that time, Silver Rose travels from town to town throughout North America.  People gather to pray the rosary and ask our Blessed Mother to end the Culture of Death that grips our society.
At 7 pm there will be a brief ceremony and silent meditation, followed by a lighted procession to Serra Gardens and the statue of Our Lady of Guadalupe.
At 7:25 pm, there will be a multi-cultural rosary said and a procession back to the Knights Hall, followed by food.
At 8:30 pm will begin an all-night Prayer Vigil for Life at the Hall.
At  6:30 am, the Silver Rose Caravan will take the Silver Rose to the Good Samaritan Retirement Center in El Cajon.
All members of our community are invited to join the Knights to pray for a civilization of love and culture of life in our own country and throughout the world.   Can't join us?  Come to 5 pm Mass in Serra Center this Sunday and stay after Mass to pray the Rosary.
Our Knight's Council, kofc3162.org in Oceanside, CA, is one of  17,000 Knights of Columbus councils that make up the world's largest Catholic fraternal service organization. Founded in 1882 to assist working-class and immigrant Catholics in the United States, today the approximately two million members of the Knights put their faith into action through a broad range of charitable causes locally, nationally and internationally through financial contributions and hands-on service.